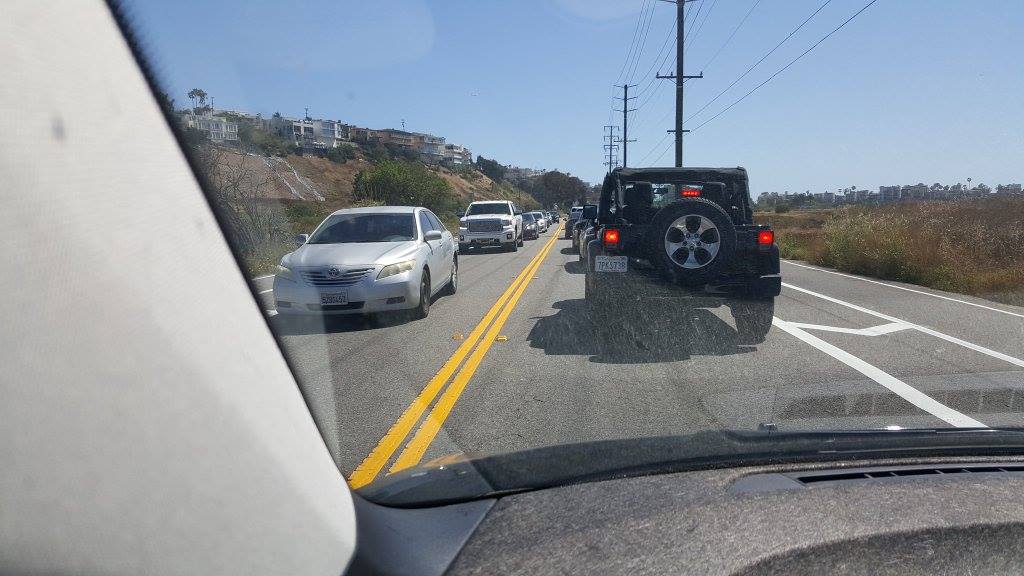 Background
Starting in early summer 2017 most of the 12,000 residents of Playa Del Rey, and their neighbors in the surrounding communities, were surprised to find that Vista Del Mar was reduced to a two lane road. We quickly found out that Pershing, Culver Blvd. and Jefferson would also receive the same lane reductions. These streets are the major arteries, "secondary arterial roads" in DOT speak, that connect the South Bay and Playa Del Rey to Santa Monica and West LA. The result of losing 1/2 the capacity of these roads has created traffic and gridlock in our community, all day, every day. Commuter traffic that belongs on the commercial streets is now spilling onto residential streets as frustrated drivers search for alternative routes to Sepulveda and Lincoln Boulevards.
Our City Representative, Councilman Mike Bonin, tells us that meetings were held, surveys were taken, this is what the citizens of Playa Del Rey want! The truth is about 150 people attended those meetings and took those surveys. This is less than 2% of the population of Playa Del Rey and less than 1% of Playa Del Rey and Westchester combined. The people who now must live with these changes and the resulting traffic and congestion they have created were not part of the process, no matter how much Mike Bonin insists we were.
The facts are:
We are a group of residents from Play Del Rey, Westchester, and Playa Vista who want our city government to perform a true study where ALL solutions are considered that make the streets safe and keeps the traffic moving.
Cars constantly idling as they sit stuck in gridlock is worse for the environment than cars moving along streets without traffic.
Shifting traffic from Vista Del Mar/Pershing/Culver has resulted in increased commuter traffic spilling onto our residential streets. 83rd, 77th, Loyola, Playa Vista Drive and Bluff Creek are experiencing the worst of it.
Playa Del Rey is not a "grid city". There are only two other roads for resident of the South Bay and Playa Del Rey to take when traveling north for work, doctors appointments and visiting friends: Lincoln and Sepulveda, both of which are jammed.
Riding bicycles is nice, but we have children to take to school, deadlines to meet, families to make dinner for and already long commutes. Biking to work is not a reasonable solution.
The changes on Vista Del Mar have created a dangerous situation for beach goers, pedestrians, cyclers, and drivers.
Councilman Bonin has told us that this a pilot program that will be reviewed at 30, 60 and 90 day milestones from implementation. We are now past the 90 day mark and as Bonin and the LADOT continue to fiddle with the roads we the residents have been left in the dark. No information regarding the success or failure of the pilot project has been forthcoming. And there is no defined end to the pilot program. Success/failure criteria has not been defined. No baseline data was taken prior to the beginning of the pilot program, therefore there is nothing to compare the results to.
The pilot program was implemented during summer months when traffic is lighter - the naturally occurring lighter traffic patterns of summer could be shown as proof of success.
Now that the summer is over and kids are back in school our fears have been confirmed, gridlock in our town is worse that it has ever been.
What Mike Bonin says:
The residents of Playa Del Rey want these lane closures.
The changes on Vista Del Mar were an emergency due to safety.
Pedestrians have been killed, we need to make the roads safer for walkers!
Environmental Impact Reviews were not performed due to the emergency situation.
Baseline traffic studies were not performed due to the emergency situation.
This is better for the environment.
People should ride their bikes more.
This a pilot program and it will be reviewed 30/60/90 days from implementation.
This same pattern of implementing "road diets" quickly, to "do something" to address the safety of pedestrians and cyclists, with little to no study of its impacts on or input from the community, has played out again and again across the city. Refer to the "Great Streets Projects" in Mar Vista, Silverlake and San Pedro.